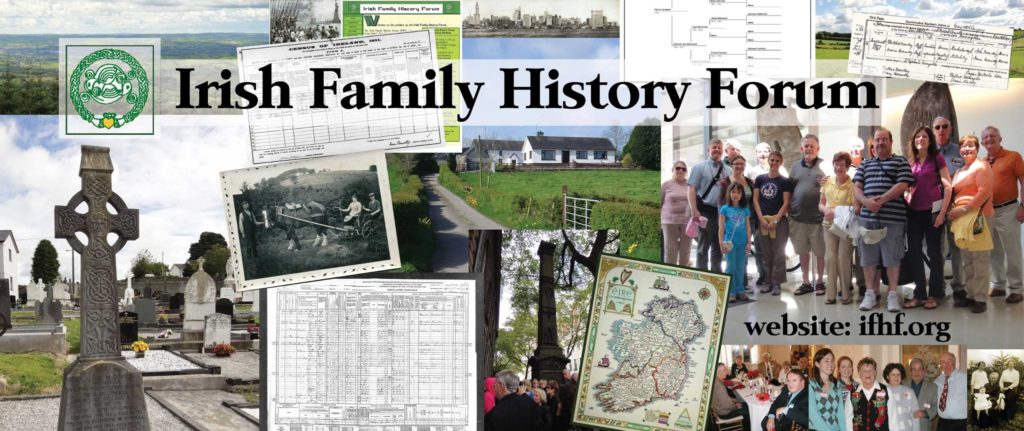 The Irish Family History Forum is a non-profit Long Island based organization, of about 400 members, dedicated to promoting and encouraging the study of Irish genealogy and family history, and assisting its members in researching their Irish ancestors.
Meetings and Events
The Forum hosts meetings at the Bethpage Public Library on the third Saturday of each month (except December, July and August). These meetings typically feature speakers on various genealogy and Irish cultural topics, as well as genealogy education sessions, opportunities to ask one-on-one questions of our "experts," and a social refreshment break.
We also sponsor various museum, cemetery, and historical tours, and hold an annual Christmas Luncheon.
Newsletter
Members receive a subscription to our award-winning quarterly newsletter featuring articles on such topics as Irish genealogy resources, repositories, websites, members' research experiences, and occupations and traditions of our Irish ancestors; Irish and Irish American history; research tips; recommended books; information on upcoming Forum lectures and events; a calendar of local Irish and genealogy events; information on national conferences; Forum news; and many other items of interest. The Newsletter is indexed in the Periodical Source Index (PERSI).
The Forum Newsletter has been honored several times by the National Genealogical Society. In 2013, the Newsletter won the local-society category of the NGS newsletter competition, and it was runner-up in 2014, 2015, and 2016. In addition, it took first prize in the 2014 Excellence-in-Writing Competition sponsored by the International Society of Family History Writers and Editors
IFHF Library
The Forum's John Rowane Memorial Library is housed at the LDS Family History Center in Plainview, NY. The library materials include over 500 items including: books, journals, newsletters, audio and video tapes, CDs, pamphlets, reference materials, etc. of general and Irish-related genealogical significance. There are volunteers available at the FHC to assist with research. Members may borrow most materials at the library or on request can be picked up at one of our meetings at the Bethpage Library.
In addition to our collection in the FHC, members can use our Irish research collection in the reference room at the Bethpage Public Library.
Our library collection is indexed and can be accessed at Library
Online Resources
Our Website, offers access to our interactive Library index, which can be searched by title, author, or keyword, our Blog, and our list of useful genealogy Links.
In addition, IFHF members have access to our
Donations
The Forum works to preserve and make available physical and electronic resources, via both the Internet and the Forum's library of physical materials housed at the LDS Family History Center in Plainview, NY. You can help us by donating.
You can also visit us on Facebook.